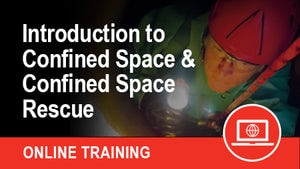 Introduction to Confined Space & Confined Space Rescue
Following this training you will be able to:
- Summarize the differences between the confined space regulations and standards for
- General Industry, Construction, and the American National Standards Institute.
- List Key terminology and definitions regarding confined space
- Describe what are the three items that make up a confined space
- Identify different examples of confined spaces
- Explain the difference between a Permit Required and Non-Permit Confined Space
- Define the three categories of confined space workers
- Discuss the basics of confined space rescue
Approximate time: 30-45 mins.
Once you order this course, you will receive two emails. The first email will be your order confirmation, and your second email will be your profile set-up and direct link to the course from Litmos. You will take this training course in your auto-generated profile in Litmos. Make sure to check your emails following your online training course orders.
This training not intended as a supplement for the Confined Space regulatory mandated and employer directed training.
---
We Also Recommend