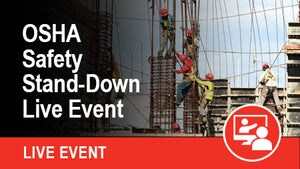 OSHA Safety Stand Down LIVE Event (ENDED - ON-Demand Option Below)
Join us May 2, 2023 at 2:00 p.m. EST for a 45 minute live webinar with Honeywell Instructor Mark Cangemi, CSP Senior Training Professional, for a complimentary presentation on the basics of fall prevention and protection and gain knowledge to identify and control hazards associated with work at height.
A direct link to the webinar will be sent after registration.
This course is offered at NO cost as a value add from Honeywell Training.