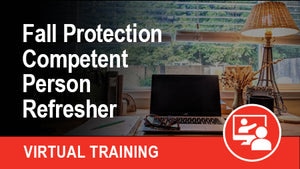 Virtual Fall Protection Competent Person Refresher
Prerequisite Requirement:  16-hr Fall Protection Competent Person
This training is also available as ONLINE/On-Demand
Do NOT order this class if you have not successfully taken the 16-HR Fall Protection Competent Person with Honeywell within the past two years (or hold a Honeywell certificate that has recently expired in the last 6 months). Current certificate must accompany registration. Questions? Please call 855-565-6722

DESCRIPTION
This is a VIRTUAL, instructor-led, 1-day course. The class will take place with a live Honeywell instructor through a virtual platform (A direct link to the training is sent after registration). Testing and certificate download will be through Litmos: https://honeywelltraining.litmos.com (Accounts are created upon registration).

This 8-hour Fall Prevention & Protection training course designed for previously trained competent persons. This training course covers the highlights and most recent changes required by OSHA 1926.32(f), 1926.500 and 1910 fall protection standards. Course highlights include work applications and scenarios as well as new regulatory and fall protection product developments.
If you have taken the Honeywell Fall Protection Competent Person course which includes the additional day of hands-on equipment inspection, this course will honor the re-certification.
PROGRAM TOPICS

Overview of Fall Prevention and Protection

The Need for Fall Protection

Hazard Analysis

Recognition of hazards

Evaluation criteria

Control measures

Fall Prevention vs. Protection
General Principles of Fall Protection

Fall clearance calculations
Total fall distance calculations
Minimizing fall forces (live demonstrations)

Fall Protection on Aerial Lifts and Ladders
Competent Person Inspection (Hands-on Practicum)
VIRTUAL REQUIREMENTS

A personal computer with a strong internet connection.
A minimum of one fall protection harness and lanyard (or SRL) for the hands-on portion of this training.
Please ensure you have a web cam and that your computer audio is enabled. We suggest you use a headset, which reduces echo for the instructor.
Please join at least 15 mins. early to work through technical issues.
STUDENT WORKBOOKS

At no additional cost, a digital download of the required book will be provided prior to the class. If you wish or to order a printed copy of the book, you can do so by going to the below page.

Order Awareness Student Workbook here
---
We Also Recommend