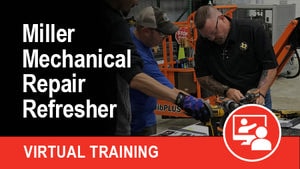 VIRTUAL Miller Mechanical Repair Refresher
If none of the dates/locations work, a private virtual refresher session is available.  Call or email us for a quote or additional information: 855-565-6722.
Prerequisite Requirements:
ONLY authorized Honeywell repair center technicians may attend this course. If you are not an authorized repair center with Honeywell, your registration will be declined. 
Technician must hold a valid Honeywell certificate within the past 2-3 years. 

Current certificate must accompany registration. 

This is a VIRTUAL, instructor-led, two-day course. The class will take place with a live Honeywell instructor through a virtual platform (A direct link to the training is sent after registration). Testing and certificate download will be through Litmos:  https://honeywelltraining.litmos.com (Accounts are created upon registration).

This 2-day Mechanical Device Training includes instruction on service and repair of Miller Self Retracting Lifelines (SRLs) with and without emergency retrieval. This course also includes service and repair of tripods.
Technicians will be evaluated by the instructor(s) visually, verbally, and by an online assessment. All SRD models on the provided certificate will be covered in the training program by a combination of physical and/or verbal training.

The technicians must physically demonstrate the proper inspection and service procedures, actively respond to questions, and complete an online assessment to confirm their abilities.

Any absence of this criteria or doubt expressed by the instructor(s) in the technician's ability to perform the skills required to perform proper service will result in certificate suspension. In this case, the technician will be reviewed, management notified, and a corrective action plan put in place.
After successful completion of the course, Technicians will leave with a 2-year certification.
In order to maintain a low student to instructor ratio, classes are limited to 8 participants. This ratio enables us to give maximum hands-on participation during the training.
PRODUCT REQUIREMENTS
Miller Self-Retracting Devices (SRD): Minimum one unit from each family
RL20/RLS30 (MightyLite)
RL 30/50/65/100/130/140/175 (MightyLite)
MR50 and/or MR100/130 (MightEvac)
MP 20/30 or 50/65 (Falcon)
Titan, Rhino (CFL), and Falcon/MightyLite Leading Edge units are typically covered verbally
MP16P/MP20P - if this unit is common, then this should be added to the required list above
Any substitutions or omission of the 4 required SRDs must be approved by the training department prior to the training.
VIRTUAL REQUIREMENTS
Reliable Laptop
Exceptional Internet Connection
Headset, Bluetooth, Earpiece, or Equivalent
Web Camera
Work Bench and Service Tools
*Miller units
LEARNING OBJECTIVES
Demonstrate and explain the pre-service and post-service inspection processes of the different models of Self Retracting Devices (SRDs) used in the training
Download and use the current service manual revisions for SRD service
Perform the procedures for full SRD service
Ask questions related to any process, procedure, updates, and / or concerns
Answer questions from the instructor(s) regarding SRD service
Complete the Miller Post-Training Assessment and review any incorrect answers with the instructor(s)
Failure to perform the above learning objectives will result in certificate suspension and failed training re-certification.
---
We Also Recommend