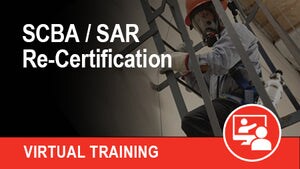 SCBA /SAR Re-certification
Prerequisite Requirements:
ONLY currently certified Honeywell / Sperian / Survivair SCBA/SAR Technicians, re-certifying on: Titan, Panther, Cougar, SIGMA, BA1000, HIP PAC & SAR systems may attend.
Persons attending MUST bring at least five (5) PosiChek3 test result sheets from SCBA/SAR systems that they have personally tested within the 90 days prior to the course date.
The PosiChek3 test result sheets must reflect the make/model/type.
SCBA/SAR systems upon which the technician is being re-certified.
If you DO NOT/CANNOT meet these prerequisites for the re-certification class, then you must enroll into the appropriate 2-day training course.
If none of the dates/locations work, a private virtual refresher session is available.

 

Request a quote here, or call: 855-565-6722.

This is a VIRTUAL, instructor-led, one-day course. The class will take place with a live Honeywell instructor through a virtual platform (A direct link to the training is sent after registration). Testing and certificate download will be through Litmos: https://honeywelltraining.litmos.com (Accounts are created upon registration).

This course is designed to allow personnel who hold current Panther™, Cougar™, and Warrior SCBA or Panther Hip-Pac®/SAR system Technician certification an efficient, skill-based course to validate and renew their certification. Participants will be required to provide PosiChek3 flow test results as evidence of current work on the pneumatic systems (PosiCheck3 is a calibrated piece of test equipment utilized to verify that the pneumatic systems are working appropriately to meet government standards).

---
We Also Recommend